In-Home Classroom Assistant
for Hillsborough Virtual and E-Learning Schooling
If you chose in-home schooling for the upcoming school year, we have the perfect solution and opportunity for you! After, contacting us to learn more about our pricing and process, SIGN UP HERE. Once signed up, we will send you a questionnaire within 24 business hours, to complete and get started.
We have created an in-home classroom assistant position in efforts to monitor, encourage and help with your child's academics and at-home safety. It is our best interest to keep your child focused, learning and excelling with their school work, while remaining safe and comfortable. This is intended to allow you to return to work or whatever it may be you need to do, whether it be in the home or outside of the home. This opportunity gives you a solution to keep your children home and safe, during the school year.
Hillsborough Virtual Schooling: Where the teacher assigns school work and the parents/ at home assistant act as the teachers, in the home setting. The parents/at home assistant plays a much more vital and active role in the child's learning and it is very self paced. This is basically home-schooling, but with a Hillsborough County teacher's curriculum being delivered and assigned to the family. *Please note this is subject to change based on upcoming Hillsborough County meetings.
Hillsborough E-learning Schooling: This is online instruction from a Hillsborough County teacher and this will ideally mirror the school hours and day of the brick and mortar school day. Your child will be home, most likely on zoom or another video chat outline and learning from their Hillsborough County teacher. The parent or in home classroom assistant will be responsible for technological help, accessing and signing into the video chat outlet, organizing work for the child, encouraging the child to stay focused, providing a safe atmosphere for the child and helping with any questions they may have. *Please note this is subject to change based on upcoming Hillsborough County meetings.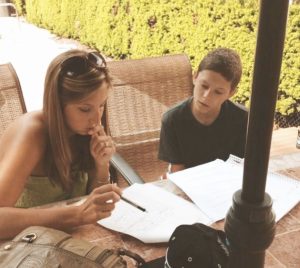 The in- home classroom assistant is responsible for making sure your child is staying focused and organized, doing their school work, as instructed by their teacher(s) and more. The assistant is also happy to help answer any questions the child may have related to their school work or curriculum their teacher(s) have provided. He or she will also attempt to reach out to the teacher(s) directly for any questions the child or assistant may have, regarding the assigned school work and assist in uploading completed assignments. He or she will also try and help with homework needs, as well. The assistant is also able to prepare lunch time, snack time, a 30 minute to and hour play time break and tidy up any food. Lastly, the classroom assistant is there to also ensure your child is safe and comfortable. You are welcome to stay in the home or leave the home, whichever you prefer.
The classroom assistant position is a minimum of 2 hours and a maximum of 6 hours.  The assistant is happy to help 1-5 days during the normal school week. The classroom assistant is strictly there to help monitor and encourage your child to do their assigned work from their teacher(s) and help keep your child safe. He or she is not to act as a teacher, nor provide any curriculum.
This opportunity does not include special education needs or learning disabilities. 
The classroom assistant is not responsible for the grades or academic process of the child. They are there to monitor, help keep your child focused, help with technology, encourage and help answer questions and guide your child and ensure safety. 
This does not include sporadic babysitting. 
All In-Person Classroom Assistants must meet our high standards are critters, shown below: 
Clean Background Check
A Safe Vehicle for Transportation
18 years of age or older
CPR Certified
Have 2+ years of child care experience
Educated, Professional, Reliable and Motivated Individuals
An education degree and/or teaching experience is a huge bonus but not required.
The in-home classroom assistant is paid and employed directly by the family. We do not take any cut from our in person classroom assistants. Our company acts as a recruiting agency to help find you the perfect, consistent in home classroom assistant. Please allow 3-4 weeks from the day you sign up, to help match you with the perfect person!  Please contact us for our service pricing and in person classroom assistant pricing, today! We also can help with e-learning opportunities for private schools, too. We have made this affordable for all parents! 813-609-2551
 Combined In- Home Classroom Assistant & Nanny:
A combined nanny and in-home classroom assistant would be an upgrade for a family, as this would be a more in-depth search for our team to find candidates to meet more qualifications. The examples, below are scenarios where a nanny and in-home classroom assistant would be combined:
You have a child needing in-home classroom help and other young children to care for, not related to schooling.
You are needing more than 6 hours a day and outside of schooling needs.
You need a consistent care taker to take your kiddos to and from activities and/or help with household needs, outside of the description listed above.
If you are seeking a combined nanny and in person classroom assistant, please call us to discuss your specific needs and to see how we can help you!  813-609-2551