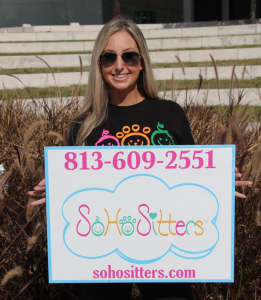 Stephanie M is the proud President and Founder of SoHo Sitters. Stephanie has worked with children, for over 17 years and truly enjoys each and every child. Growing up, Stephanie  lived on a farm and therefore, animals are also very dear to her. Stephanie is originally from Boston, Ma. and relocated to Tampa to attend the University of Tampa. Stephanie is a proud alumni of the University of Tampa and Delta Zeta sorority.  She founded SoHo Sitters almost 10 years ago, as she definitely saw a need in the area, for a trusting place, where families can rely on for reliable, engaging, top quality child care and pet care. As the owner of SoHo Sitters, Stephanie strives for a happy, wonderful local community.  She  enjoys giving back to the community and volunteering her time, whenever possible. She also enjoys spending time with her animals and her wonderful, supportive family. Some of Stephanie's personal hobbies include traveling, spending time with her family and pets, reading and networking within the Tampa Bay community. Stephanie truly hopes to exceed all your child care and pet care expectations.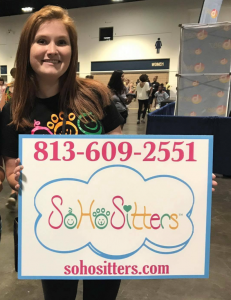 Lindsey C is our amazing Recruiting Director for Nanny finds. Lindsey has been a part of SoHo Sitters for nearly 5 years and has worn many hats within the company. She is extremely knowledgable, mature and dedicated when it comes to finding the best child care for your family. Lindsey is originally from St. Pete and recently graduated from the University of Alabama at Birmingham, for dentistry. Lindsey's drive, passion, and professional demeanor is such a wonderful contribution to our SoHo team. We are the wonderful company we are due to having Lindsey by our side, every step of the way. Lindsey's hobbies include spoiling her dogs,  spending time with her husband and family.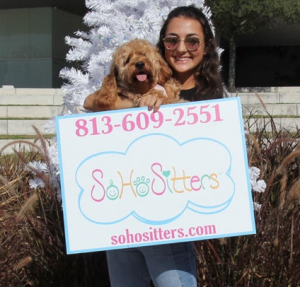 Anna G is the Marketing Director and Recruiting Administrator for SoHo Sitters and is also a wonderful sitter for SoHo Sitters. Anna is from Rochester, New York and is also a proud alumni of  the University of Tampa and Delta Gamma sorority. She has proudly worked with SoHo Sitters for over three years and truly enjoys working with children and forming bonds with so many wonderful families, throughout our community.  Anna is also responsible for bringing new and amazing sitters on board and co-managing them throughout their journey with us.  Her hobbies include reading books, traveling, spoiling her dog, and enjoying time with family and friends!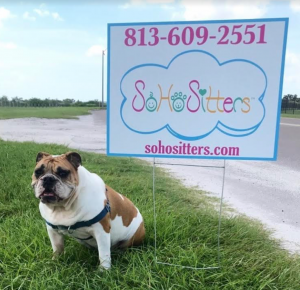 Sir Brunswick, also known as, Bruno, was SoHo Sitters proud mascot. Bruno was extremely loving, happy and easy going. The children, who had the pleasure of meeting Bruno, instantly loved him. He enjoyed playing ball with the children, cuddling up with them before bed time and bringing happiness to all. He even gave a few toddlers piggy back rides.  We loved having Bruno as our mascot, as he brought such joy and laughs to our families and sitters. We will forever miss him!  Rest in Peace, Bruno. 4.7.9-10.27.20
Meet some of our fully screened, top quality sitters HERE