SoHo Sitters is the very first agency, in Tampa Bay, to provide busy parents, like yourself, with an innovative, easy to use  app.
Once you sign up for sporadic babysitting (unlimited plan, temporary one month or upfront save big plan) you will gain full access to our one of a kind web app, which can be found at my.sohositters.com
Sitter Bio Highlights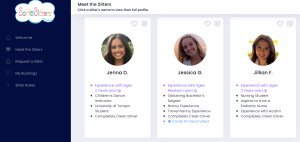 Within the app, you will have full access to our sitter bios and can manage sitters based on your own personal preferences.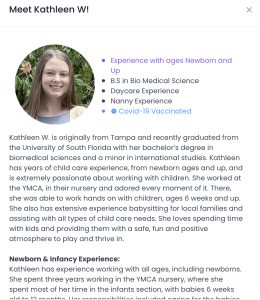 Request a Sitter Tab
You may also submit sitter requests, anytime! Our system conveniently saves all of your preferences, for future needs, so you can quickly login and submit any dates you need accommodated. 

Once your request is submitted, our team will work to accommodate your needs with a qualified sitter, that meets your preferences. An  email, with a calendar invite is then sent and your assigned sitter will also be in touch. If you ever need a future SoHo sitter, simply login and request, anytime. 

Within the app, you may also manage your bookings, too.