SoHo Sitters
We are seeking sitters with strong flexibility, for sporadic babysitting, at this time!

For Consistent Nanny Opportunities: Please check our open positions HERE. Then email us with your experience, qualifications and a copy of the job description you are applying to. Email will be found in job post. 
Sporadic Sitting:
GREAT PAY – Starting at $18/hr
Voted Best of the Bay!
We take 0% of your earnings and you are completely paid and employed directly by the families
Endless sporadic babysitting opportunities
Schedule is flexible and based around your availability. We just ask for a MINIMUM 4 shifts per month
We work with wonderful, respectful and appreciative families in the Tampa Bay area. 
Before applying, please review our expectations, below and job qualifications that must be met. Most of our families are located in South Tampa and we have some families in neighboring locations, such as Wesley Chapel, St Pete, Temple Terrace, Riverview Westchase, etc.  
Nanny Positions: 
Follow us HERE to view current nanny job openings. Hourly rate depends on what the family is open to offering. However, we only work with families who offer $23/hr minimum.
Applicants must meet ALL of the following requirements: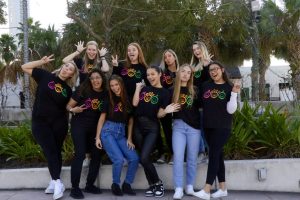 Must be 18 years of age or older
Have 2 excellent child care references
Have Clean Background
 No reckless driving, careless driving or DUI's
No more than 2 convicted speeding tickets over 2 + years ago
Must have your own safe vehicle for reliable transportation & a valid driver's license
A Non-smoker
Be willing to get CPR certified if not already
Have a flexible schedule and able to pick up at least 4 babysitting shifts per month, minimum. We would love more if possible!
Must be a strong go getter and well rounded individual
Must be an outgoing, bubbly, active, individual
Must be furthering an education outside of a high school degree
Have at least 3 years of childcare experience (at least working with children as young as 2 years old)
Education, Psychology, and Nursing Majors and Experience are a plus but not required
Staying majority of college breaks (if college student) is a plus but not required
Must be able to work with us long term (winter break help is an exception!)
Must be engaging, tidy, timely, reliable and responsible
Must be comfortable with families having nanny monitor cameras, per their discretion
Must have professional and conservative social media outlets
Must be able to hide facial piercings and tattoos for each shift. A simple bandaid is fine for this.